Welcome Fall with DIY Feather Garland
Kids are back at school. The temperature drops slowly. Leaves are falling. Bugs are starting to dissipate into oblivion. It begins to get dark earlier. There's a slight breeze in the air. Hmmm…fall is coming.  Personally, I think fall is the best season – second best is spring, my birth-season. Wardrobe wise, this time of the year is perfect. You don't have to wear next to nothing just to stay cool and you don't have to bundle up like Randy from A Christmas Story – although it is still hysterical 33 years later. All you need is a light jacket, if that. Me? I love my oversized sweaters and comfy leggings. Boots, you ask? Love 'em!! Tall ones, short, ones, fuzzy ones, I can't get enough!! Why else is autumn amazing you ask? Ummm, hellooo, fall activities!! Apple picking, pumpkin picking, hay rides – honestly, walking even becomes more enjoyable.  Fall unknowingly, brings in the holiday season – so don't blame autumn you holiday haters. You have Halloween, Thanksgiving, Hanukah, Christmas, Kwanza, and before you know it, we watch the ball as it drops in Time Square and welcome in 2017. So before we get to the new year, lets enjoy fall together with this gorgeous DIY feather garland. This garland can really spice up any room for any event. Especially with the gold accents you can look really classy and sophisticated. I know my room looks like a throwback to 2008 and I could really use this DIY feather garland to look – oh I don't know – like a real person.  So if you also need to give the impression of being an adult, try this DIY feather garland with me!
Fall for Fall with DIY Feather Garland
Requirements
Scissors
Template
Needle
String
Pencil (optional)

Step 1:
Download these super cool JAM feather templates we made for you! This saves you a whole lot of time and frustration – feathers are not as light and easy as they like you to think. Of course you can use the creative side of your brain and sketch out your own, totally your call! All you have to do is pick your feather-like colors and print the template on what you decided on. For paper, I went with my favorite, Anthracite Stardream Metallic and Gold Translucent. I really wanted my blues to stand out, so I used cardstock as well. I chose Blue Vellum Bristol, Peacock Blue, and Presidential Blue. But remember this is a template! You don't have to cut it exactly like the model – I didn't even follow it all the way! This is just a guide for you to make it a little easier.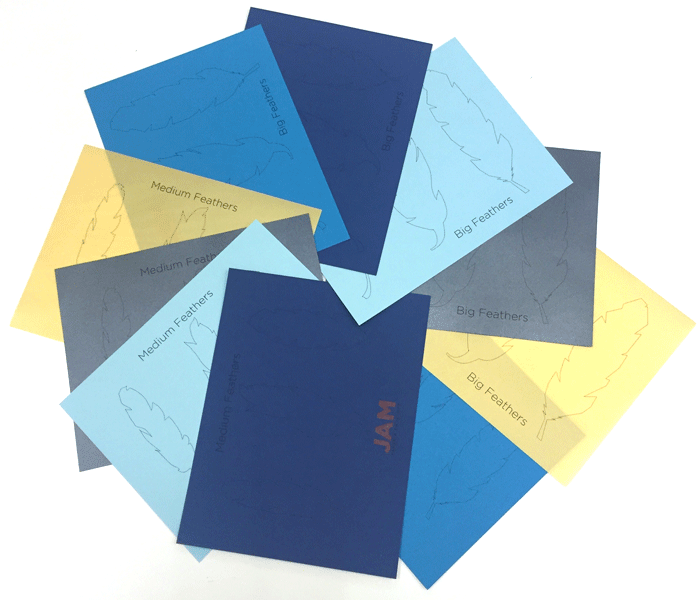 |     [media-downloader media_id="18043" texts="Big Feathers Template"]    |    [media-downloader media_id="18044" texts="Medium Feathers Template"]     |
The links will also be at the bottom of the page.
Step 2:
Cut out your feathers! Believe it or not, this is the most time consuming part. Try to find a friend…lure them in with apple cider and pumpkin pie - or wine.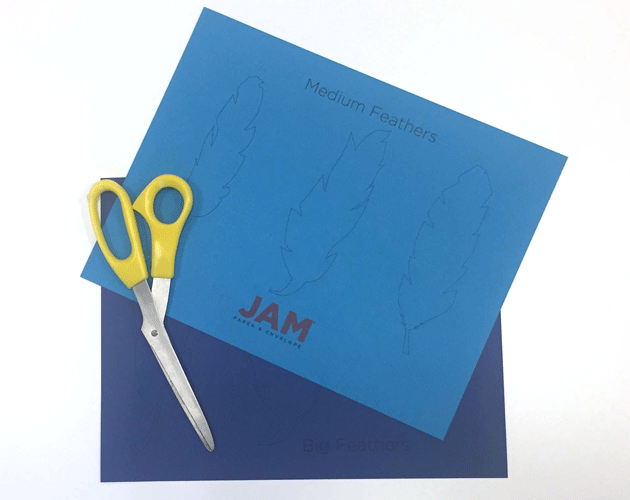 Step 3:
This is the fun part! Use your paint markers to decorate your feathers however you want. I used gold but you can use any color that you think goes with the colors you chose.
I used my Zentangle skills here that I learned from my amazing Aunt Marion!! I also did a splatter design which you can do using new paint markers. [WARNING: THIS CAN GET MESSY] With the cap on shake the marker until the paint gets to the tip. Then you can get a little crazy and air strike the marker until the paint splatters on your paper. This is a chance to really express yourself and showcase your artistic skills. Remember to decorate both sides too!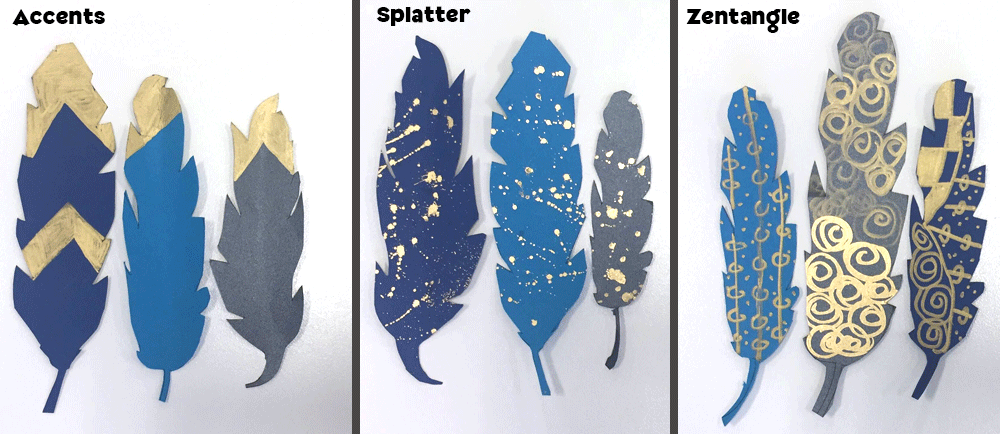 Step 4:
Phew!! I'm sure by now you've had enough of these feathers and you're over it, I know I was – this is where I would input my straight face emoji. Don't give up, we're almost done, I promise!! Okay now, carefully string your needle and thread through a sturdy part of you feather – it doesn't necessarily have to be on the stem. Make sure you make the thread all different lengths to have variety. Shortcut: this part can get a little tedious so I found a slightly easier way! Use your needle to make the hole and then thread the string through with your hands. That way you don't have to keep threading your needle.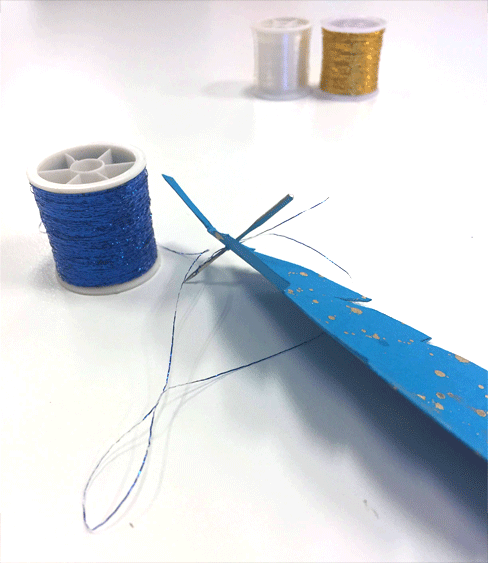 Step 5:
FINISH IT!! If you didn't get my Mortal Kombat reference, the finish line is near! Now all you have to do is arrange your threaded feathers on your display of choice. I went with this lovely stick which goes with the nature scene. You can use anything though – curtain rod, mantel, I'd even just hang them directly on an empty wall! You can use tape to secure its place on for display so they don't get tangled.
[Side note: As you place your feathers, you can gently fold your feathers in half just to give it more of a natural shape.]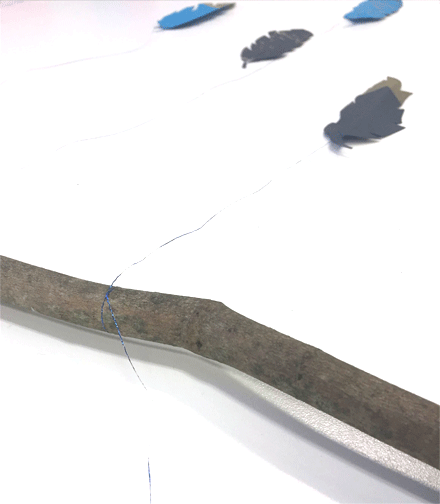 I really encourage you to bedazzle your DIY feather garland however your heart desires! Really tap into your inner Picasso. You can hang your work of art where you think may need an extra spark. Even if you don't use it as garland, you can turn it into a wall hanging. That way you can use it as a beautiful, artsy photo backdrop. DIY feather garlands are so fun to make!! You can have a little arts and crafts party and make these with your friends while drinking pumpkin spice lattes – or wine, I don't judge. Or you can use it as a bonding activity with your family, like myself (here's another one mom). Don't forget to download our super cute feather templates below! Whatever you do, take a bunch of pictures and share with us on Instagram and Twitter!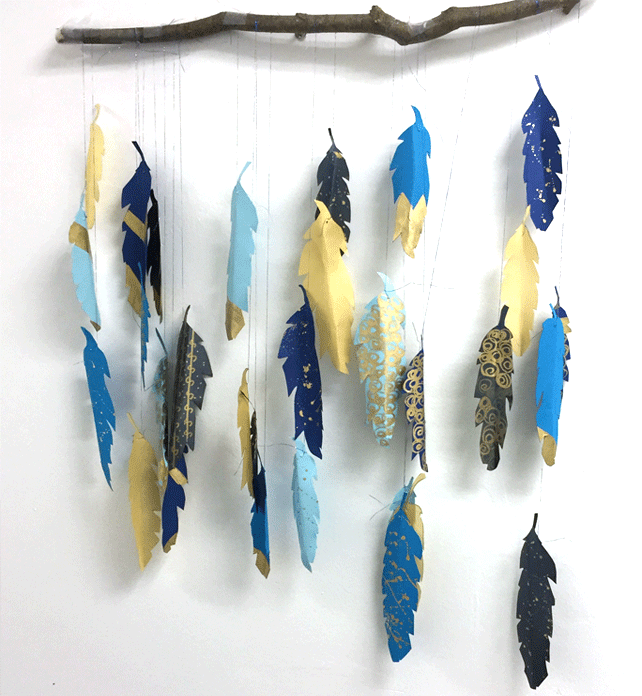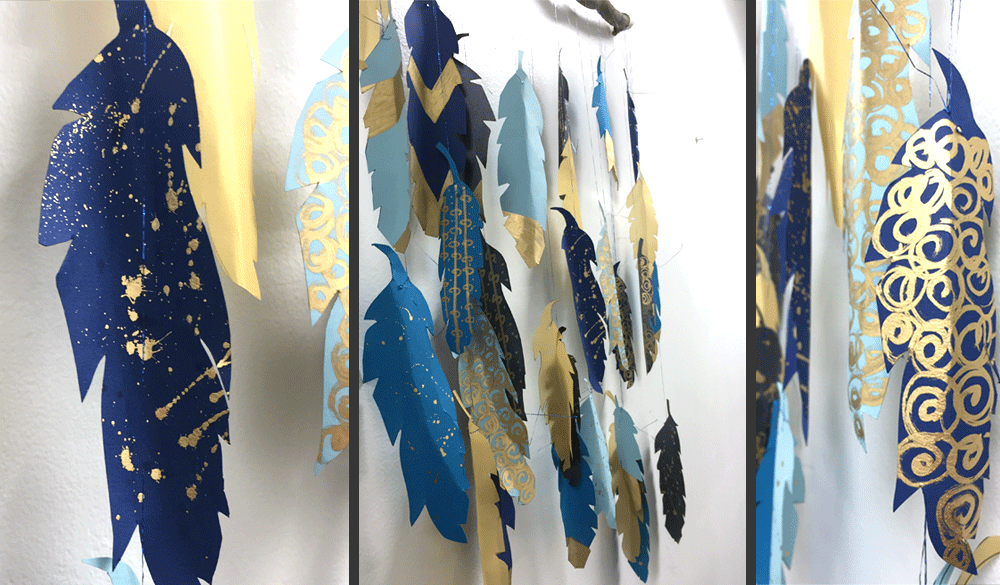 |     [media-downloader media_id="18043" texts="Big Feathers Template"]    |    [media-downloader media_id="18044" texts="Medium Feathers Template"]     |