Use Colorful Paper to Create DIY Fall Table Decorations!
Fall is here! Halloween, Thanksgiving, and Harvest Parties are right around the corner. How are you getting ready for the autumn gathering in your home? Let us help you get started with these fun DIY fall table decorations. For a complete fall table, I have included the instructions for two separate crafts. The first is the Paper Pumpkin Centerpiece. This is an easy project you can do alone, with a friend, or with your kids. The second set of instructions is for creating Paper Leaf Napkin Holders. Perfect for parties with kids or families, these decorations are both festive and easy to make. Let's begin with the Paper Pumpkin Centerpiece! First, you will need:
Step 1:

Take one sheet of orange paper and place it horizontally. Put the paper plate face down onto the paper, leaving an approximate 1" margin between the top on the plate and the top of the sheet. With the pencil, trace the full perimeter of the plate that is touching the paper. Repeat this step with the desires number of orange sheets, and then with an equal number of copper sheets. For the pumpkin size pictured here (large), 5 sheets of each color were used.
Step 2:

Using the scissors, cut out the rounded shapes you have just traced.
Step 3: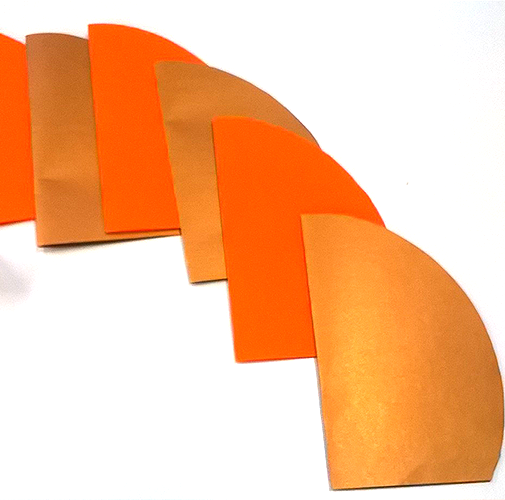 Fold each curved pieced in half short-ways.
Step 4: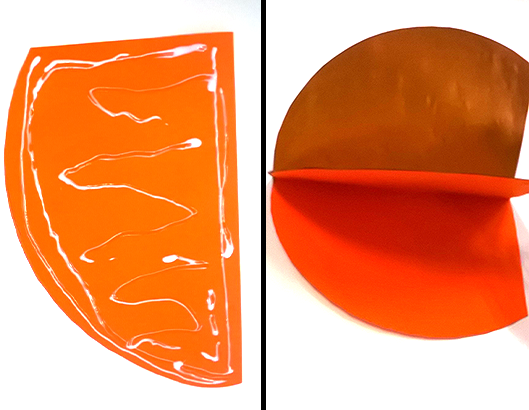 Place glue on one half of the outside of a folded piece. Place the half of the outside of a piece of the alternate color onto that piece. Keeping all pieces folded, repeated this step while alternating colors. Leave one piece out.
Step 5:
Let the glued pieces sit for 10-15 minutes
Step 6:
Fan out glued together pieces, so that unglued sides are separated. Stand the pieces upright.
Step 7:
Glue in that last piece in the empty gap. You now have a complete pumpkin! But wait, one thing is missing….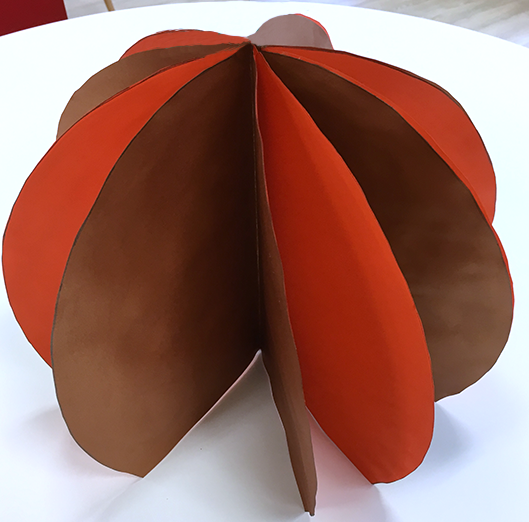 Step 8:
The stem! Take a strip of green paper (2-3" in width) and roll it tightly. You may leave your sheet tightly rolled, or let it loosen a bit for a wider stem. Glue the loose end of your stem down.
Step 9: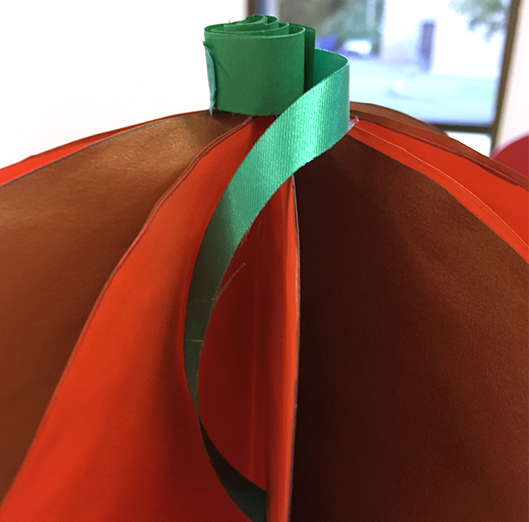 Next, take a strip of green ribbon and glue it to your stem to create a small vine. You may curl this vine or leave it straight.
Step 10: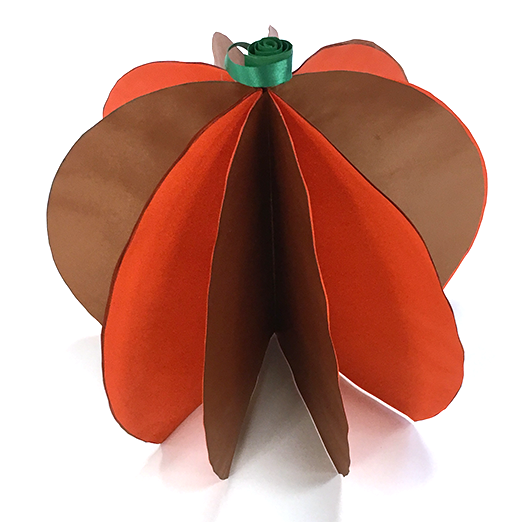 Put a small amount of glue on the bottom of the stem and them hold it down on the top middle of the pumpkin for several minutes. Then let go and let dry.
Now, your pumpkin is truly complete! (Tip: For a Halloween look, you may want to cut triangles and mouths out of JAM black paper and glue them to the pumpkin to make jack-o'-lantern faces!) You're halfway there, but your fall table is not yet ready! Continue your adventure in DIY fall table decorations and bring a little autumn to each place-setting. Bring a little of the crisp, colorful weather from the outside in with these leafy napkin holders. You will need:
One pack of JAM Bronze Paper
One pack of JAM Copper Paper
Leaf Templates ( I found mine with a simple Google search for "leaf template". The ones I chose were very simple coloring pages shrunk down to correct size, about 5"by 3")
Scissors
Glue
Clear Tape
Gold, Brown, or Clear thick thread
Sewing needle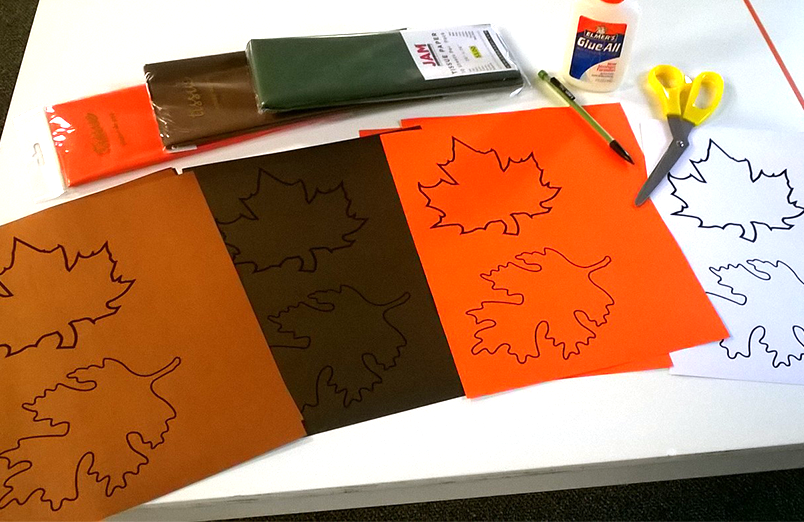 Step 1: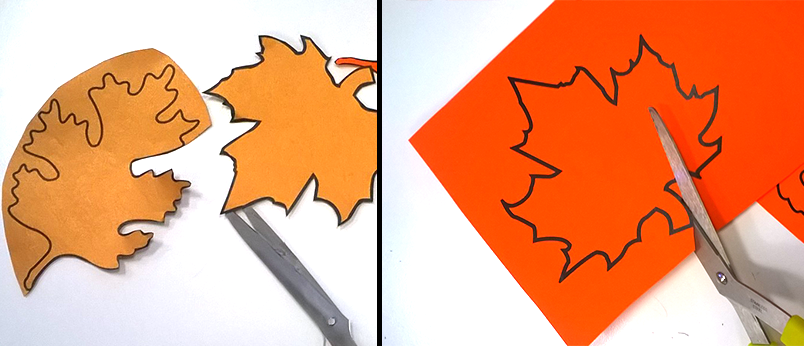 Cut out leaves from your Gold and Bronze Foil Paper with scissors. You may do this by placing the leave templates onto the foil paper and cutting around them, or by printing the templates directly onto the foil paper and cutting them out. Here, the second option was used.
Step 2:
Take a stack of 7-10 sheets of tissue paper. Place leaf templates on a section of the paper and cut around them with scissors. Do this for every kind of leaf template and every color of tissue paper you are using.
Step 3: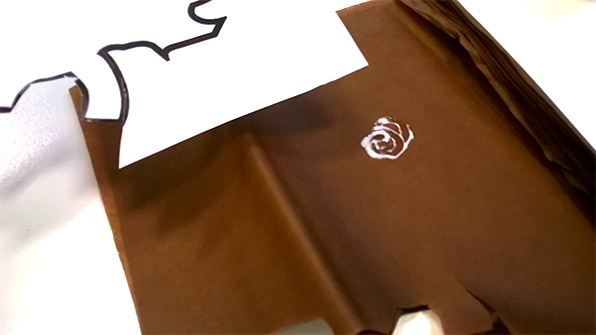 Glue the template to the top layer of tissue paper in the stack. This will prevent the template from sliding as you cut of the leaves.
Step 4: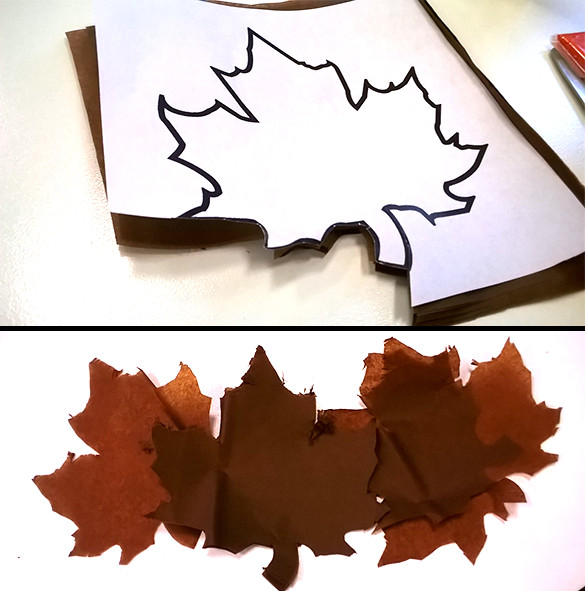 Carefully cut around each template, so that a leaf of the desired shape is cut from each of the sheets of tissue paper below. (The very first piece below the template is often too glued to use for the project. That's okay, you have the rest and that first one's sacrifice was not in vain if the rest turned out the way you wanted ).
Step 5: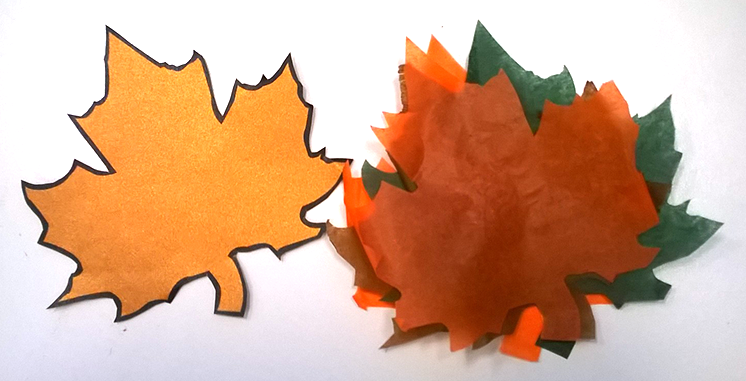 Using a Foil Paper Leaf as the base, stack a pile of your paper leaves on top of each other in any desired order. Each stack should include 1 foil leaf and about 5-6 tissue paper leaves.
Step 6: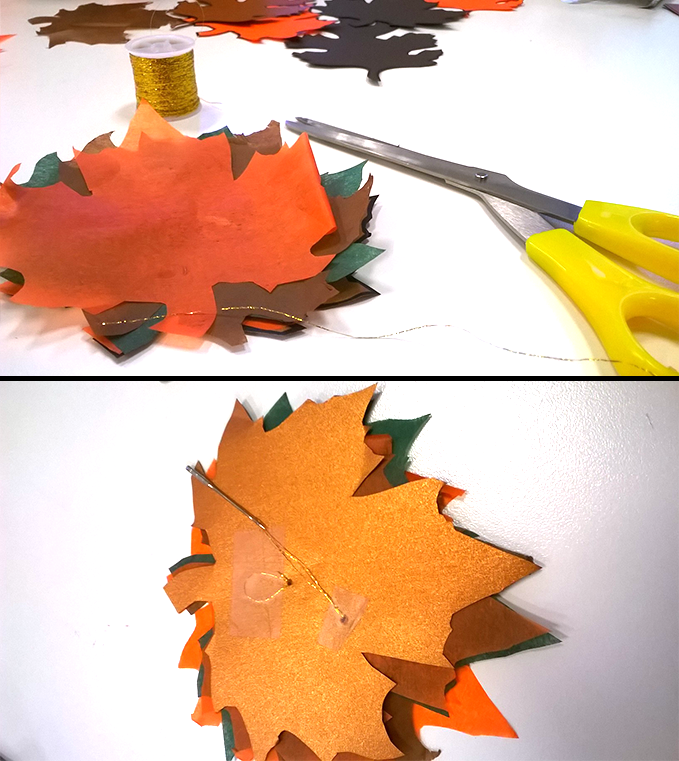 Thread the needle with your thick thread. Make a large stitch in your leaf pile to hold them together. Because paper does not behave the same way with thread and needles that fabric does, it can be helpful to fasten the thread in the back with tape instead of tying it off. Because the appearance of the tape should be subtle, use the smallest pieces you can.
Step 7:
Cut a 7-9 inch length of thread and tape it to the middle back of your leaf pile with another small piece of tape.
Step 8: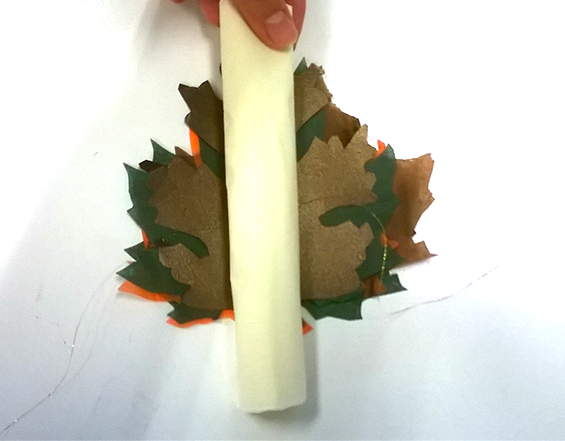 Enter neatly rolled napkin! (with or without silverware enclosed). Lie the napkin down on the holder so that the thread is near the middle.
Step 9: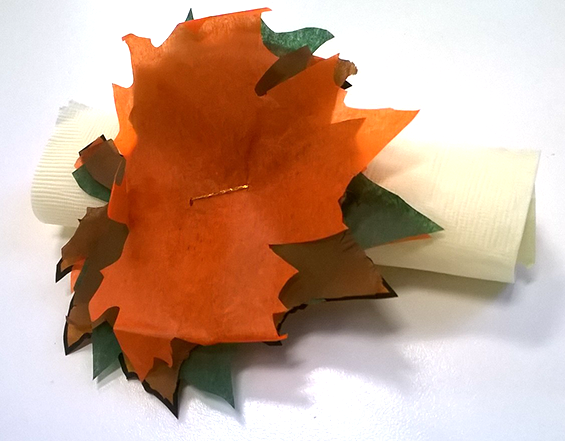 Tie the thread around the napkin with a bow. You're done! Place ensemble on its side, with all leaves showing.
Your fall table is now ready! Go ahead and invite your guests for that pre-trick-or-treating meal or for turkey and mashed potatoes. When your friends ask where the decorations came from, claim the bragging rights you earned by making them yourself. When they ask you how you did it, show them this ! Enjoy fall for the short time it lasts, and enjoy your fall gatherings even more with these easy, DIY fall table decorations.