Creative Way to Use a Kraft Gift Bag for a Birthday
Looking for a creative way to use a kraft gift bag for a birthday then look no further because that's exactly what we did in this post. We took on of our medium sized kraft gift bags and decorated it for a festive birthday celebration.
Materials
Solid Kraft Gift Bag

(

Medium

)

Shredded Tissue

(Pink, Purple, White and Kraft)
Colored Pencil
Kraft Paper Scraps
Scissors
Glue
Decorate the Kraft Gift Bag
You will need your colored pencils for this step. We used white, purple, pink and blue for our gift bag. To create the polka dots we took a roll of tape and used the inside plastic circle as a template for our circles. You can use whatever circle shaped object you have at home as long as the circle isn't too big. Alternate colored circles so that no two colored circles are directly next to one another.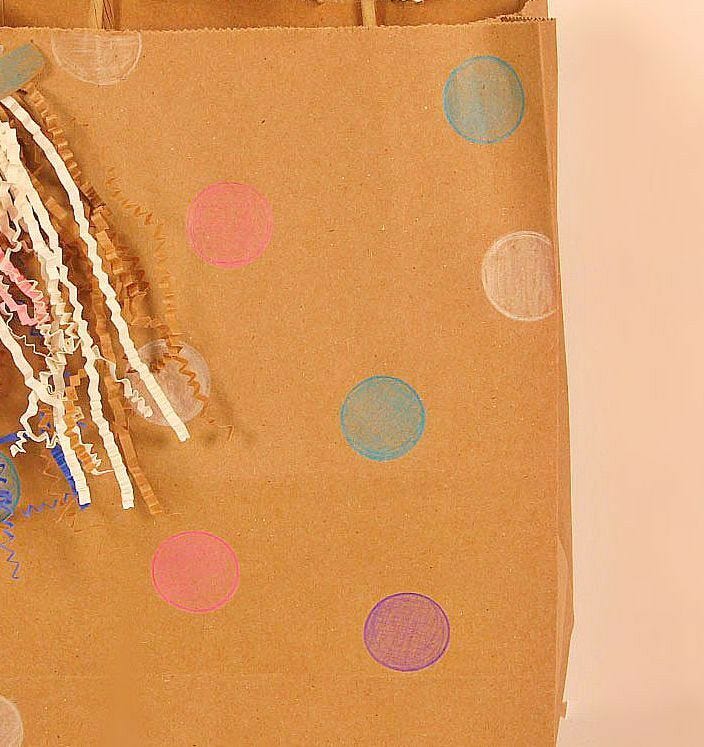 Creating the Streamers
To create the hearts we used left over kraft wrapping paper from our
baby shower gift wrapping
blog post, you can use whatever scrap paper you have around your house. Trace and cut out three small hearts from your scrap paper and color in with colored pencil. Layer and glue one heart onto the other slightly to the right so that all the hearts are visible. While that is drying add your colored streamers by added glue to the upper corner of the gift bag and layering the colored shred into the wet glue. Before the glue if fully dry add your three hearts to the glue.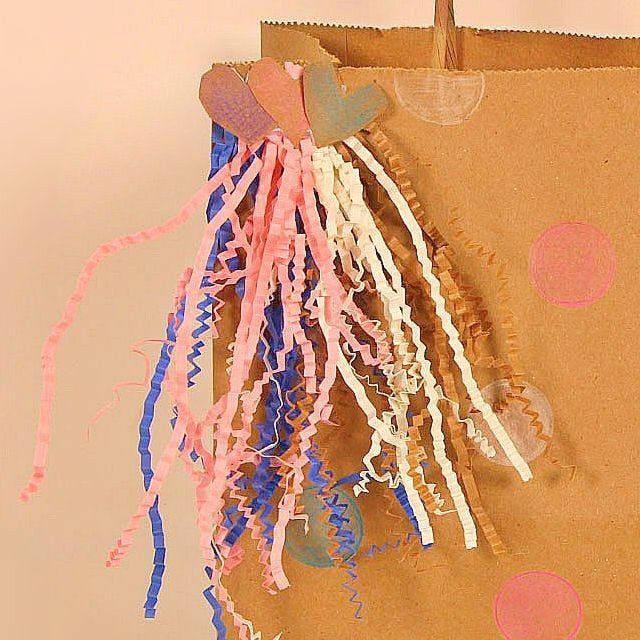 Once the glue drys fill this newly decorated gift bag with your birthday gift. You can fill the top with left over shredded tissue and tie the handles so there is no peaking before its time to open presents. This is a creative way to use a kraft gift bag!