Creating a Press Kit - One Step at a Time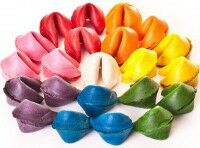 I recently opened a fortune cookie and received the fortune: "Achieving Success Means Taking the First Step."
It annoyed me because:
a) It sounded so cliché.
b) It wasn't a fortune, just unsolicited advice. (Whatever happened to "you'll be rich and live a long time"?)
c) It was unflinchingly true
The
I'll start that tomorrow
mentality has a tranquilizing effect that gives us the best of both worlds. We can envision a future in which our hard labor pays off in spades, while in the present moment we get to do absolutely nothing.
A first step seems simple; the problem is that breaking things down into individual steps is often hard. Sure, you know you have an amazing product or service, a fool-proof business plan, and a strong passion. The natural next step should to be creating a press kit to demonstrate all of that greatness. This is where you may freeze.


What materials do you include in your press kit?


How do you package it?


Where do you acquire the supplies?


Your lack of concrete knowledge has you racing to the holy grail of information: the internet. That place where contradicting opinions appear like head on collisions. Responses you're looking for are buried. And google casually tells you that it has, oh,
about
97,600,000 answers to your one question. It's information overload and it can be even more paralyzing than being completely clueless.
Considering JAM Paper provides a majority of the materials needed to make a physical press kit, we've encountered our fair share of men and women in the Advertising, Marketing, PR, Event Planning, and Product Promotion fields (roughly over 6,000), and have learned quite a bit.
[caption id="attachment_796" align="alignnone" width="250"]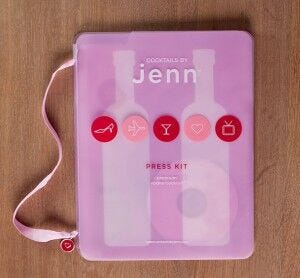 Cocktails By Jenn Press Kit (photo from http://www.behance.net)[/caption]
Our customers have been as straightforward as saying, "Thank you for making everything so easy," to as detailed as "I can honestly say in all my many, many years of putting together press kit & looking for materials, the absolute BEST packaging ever were those huge cream/chocolate hat boxes you had. Best EVER."  Regardless of the details in the articulation, we have come to notice that we've helped plenty of employees in these industries and we would like to help you self-starters as well. We have concisely compiled the best information from several experts in the field of PR, collected some real examples, and customized a page on our site where you can buy all the necessary tools in one place.
FIRSTLY, knowing what a press kit (or media kit) actually
is
is important. A press kit is a pre-packaged set of promotional materials of a person, company, or organization, distributed to members of the media for promotional use. They can be used for:


Product lauches


New company launched


Mergers


News conferences


Large events


Trade shows


NEXT: Deciding what goes into your press kit may be dauntingly overwhelming. Perhaps you have been racking your brain thinking about including something innovative and sure to stand out. Ingenuity is important, but if you start with it too soon you may find yourself spiraling back out into that paralyzing abyss. Gabrielle Bernstein, founder of the Women's Entrepreneurial Network, told
Entrepreneur Interviews
  that the best advice she ever got was
, "to take things one day at a time and breathe."
Prepping with just the basics will ensure that you have everything you need before you start getting creative.
In her post, "Successfully Selling Yourself"
, successful graphic designer Shauna Haider goes into further details about this list of
9 fundamentals for a potential press kit
:
1) A standard sized folder with a business card slot
2) A letter of interest that is personally signed
3) Any press release materials you may have
4) A CV/Resumé
5) Business Card(s)
6) A CD if you have important images, music, or extra documents
7) A color print out to serve as a overview of your product
8) (optional) Artist card/ postcard – if you're an artist these can get tacked up and get you noticed at events
9) (optional) A freebie. Everyone enjoys a present!
There are of course other things you can add to your press packet that may work exclusively for your product or company. Recent awards, pictures, or community-service involvement may pertain to your niche when creating a custom press kit. More examples of additional press kit materials can be found
in this article, "The Ingredients of a Press Kit"
, from entrepreneur.com. The article also covers content that your packet should contain, for instance what your letter of interest should say.
THIRD: As soon as you've put together these essentials (and, by the way, took another step forward) you can let the imagination shine through. Having the right stuff gives you the professionalism you need, but it's your own personal flare that will set your product out from generic ones. For some inspiration here is a press kit by
Cocktails By Jenn
that implements creative packaging to demonstrate their brand since they're unable to ship the actual product.
This press kit by Chandelier Creative
used a pop-up funhouse and bright colored paper to capture the vibe of their event.
Come up with something that's true to your brand and it will make an impression. It's all about your vision. Give it some personality. Even if it's just color coordinating your kit with your company's personal colors, it will add to your appeal.
[caption id="attachment_800" align="aligncenter" width="300"]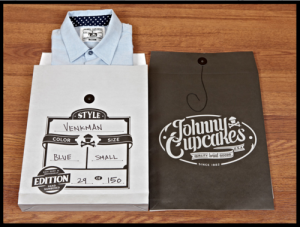 Johnny Cupcake Press Kit[/caption]
Here at JAM Paper we provide "Shop By Purpose" sections on our site so you can purchase all your
promotional materials
and all your
PR and event planning materials
in one place.
This blog post is dedicated to those who are trying to get their career together, by getting their press packet together. Let this succinct guide empower you to take the first step. Start now. I mean it. Yup. Do it.