Multi-Colored Lunch Bags For Lunch and Decor
At JAM Paper, we take a firm stance against plain old brown paper lunch bags. That's why we have 100% recycled 
multi-colored lunch bags
 that will make you stand out in the cafeteria without starting a food fight. These colored lunch bags are also known to make your food taste better and make your carbonated beverages extra bubbly. Just kidding. But are we? Find out for yourself.
If you're not using our lunch bags, chances are you're using a lunch box or a plain old brown paper bag. Brown paper bags are okay (we do offer them) but if you want to be noticed in the lunch room for something other than your food, we recommend our recycled lunch bags that come in red, white, chocolate brown and blue.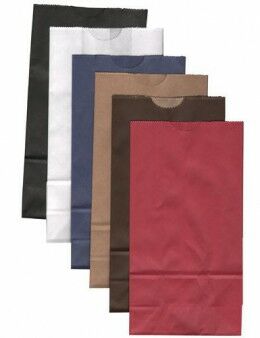 Also, keep in mind that although we named them "lunch bags," they don't have to be used for just lunch. These multi-colored bags are perfect to use as 
treat bags, party favors or gift wrapping.
 The  colors make a good foundation for any decorative project. With these bags, arts & crafts just got that much better!