Customer Talent Spotlight
This lovely Christmas gift wrapping idea for kids was sent to us by our customer Sarah of the blog, 'The House of Boys and a Girl.' She turned gift wrapping into a family activity.
 -Check it out-
I find the holiday season SO exciting.  I am a gift giver.  I LOVE finding the right gift for the right person. I love finding amazing things on sale, because then I can buy them more!  One thing I really REALLY don't enjoy buying is wrapping paper.
Seriously.
I like things to be uniform under the tree.  I am not saying they all have to match, I mean Santa has to wrap his own things in paper with his face on it. For the rest of the items like a "theme".
One thing I have ALWAYS wanted to do was to make wrapping paper.  Wrapping paper can be VERY expensive.  I *try* to get to after holiday sales, but with three kids, that doesn't happen. The kids are still small enough to want to craft with me and when I had the idea, they were EXCITED!
First things first.  You need supplies.  You can really just use what you have on hand.  I am a craft-aholic, so I have an over abundance of on hand items.   My wrapping is going to be Christmas themed, but you can really change this around to fit any holiday!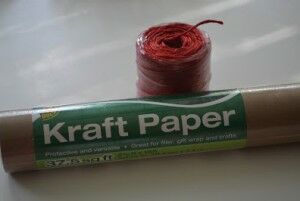 Gift Wrapping 
Supplies:
Presents to be wrapped

Paint in your choice of colors & brushes

Stamps

Ink Pads/Markers

Tape  

Hole puncher

Paper Punch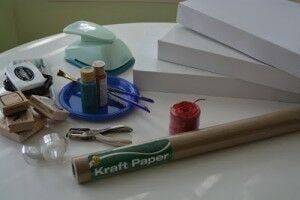 JAM Paper has some amazing items.  The holidays come once a year, but have you ever really calculated how much you spend on wrapping?  From just doing a super quick Amazon search of Christmas

wrapping paper

, you can EASILY spend $16.99 for forty square feet of paper.  If you follow these easy steps do you know how much you spend?  Less than $10.  The paper retails for $4 and the twine retails for $5.  The twine comes in rolls of 219 feet....so you are going to have this for a LONG time.  
Also, think how green this is.  The paper used in this tutorial is made from 100% recycled material.  My inner hippie is happy.
Last bit of supplies needed are your "helpers".   Cost...priceless.
Step One.   Wrap the gifts.  Kraft paper is a bit thick, so make sure you get the tape pressed on securely.  The paper is 2 1/2 feet wide, so you may have some paper left over on the side.  KEEP IT.  We are using it.  No reason to waste all the paper!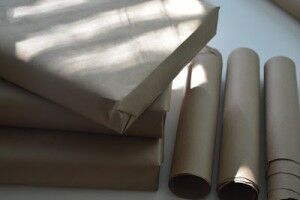 Step Two.  Grab your twine and wrap it around the gift.  Not only will this give it a nice rustic look, it also helps to keep the paper in place.  To wrap, cut a LONG piece of twine and wrap it from the front to the back.  Twist it around itself and bring it back to the front.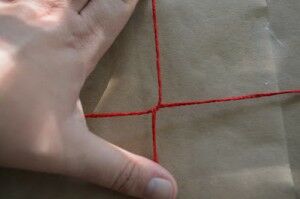 Tie the twine in a bow.  I love how the Kraft Twine is twirled. Just a little added bonus from it coming rolled up!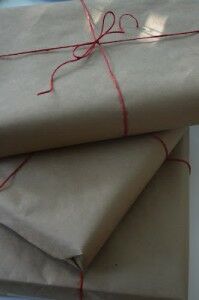 Step Three.  Grab the kiddos, paint, brushes,and wrapped presents and get painting. I picked out a green and a red.   I gave them a few tips.  They could do spots, stripes, etc. They saw that I did an initial and decided they had to do it as well.  So people could know who the gift came from of course.
How I envision it is, the initial of the RECEIVER on the package. I guess it could work their way as well.  For V, I gave her one of the pieces of paper left over.  Once painted it could be used to wrap a small package, you could make a card with it, or even cut out your favorite part and put it in a frame.  Voila!  Art work!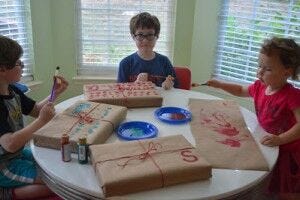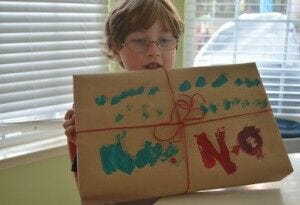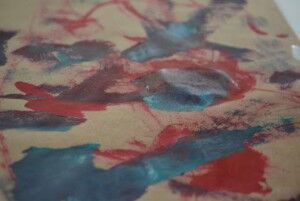 Aidan's finished gift!  Spots AND Stripes.
Remember those curls of paper from before.  Grab them.  You need them for...
Step Four.  Use your paper punch to punch out your tags.  You will end up with WAY more tags than necessary. Maybe you can make extras and give them out as gifts as well! Who doesn't love homemade gifts from the heart?
Punched out tags.  A bit curly due to the paper being on a roll, but according to a survey of my Facebook friends...this is a good thing.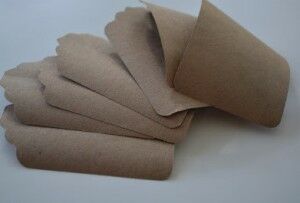 Step Five.  Grab your tags, stamps, and ink pad and get stamping.  I always make sure that the ink I use is nontoxic.  I went with red and black ink for today's project.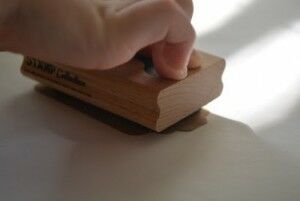 Aidan made these all by himself!
Some stamps, once stamped are cute, but could use a bit more pizazz.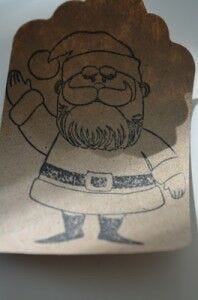 In the "stamp" section of most craft stores there are

ink pens

.  Basically fancy-pants markers that you can use to draw on clear stamps with. I used them to color in the tag.  Cute,huh?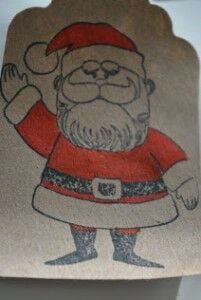 Step Six.  Grab your hole puncher and get punching.   Were you aware that hole punchers come in different sizes? Now you are!  The puncher on the right is your standard hole puncher. On the right is the smaller one.  I prefer to use a smaller size one for tags for two reasons.  First, if your image is large you don't have to worry about running into it.  Second, I think it just looks cleaner.  There is less "empty" space.
As you can see, the red twine fits PERFECTLY through the hole of the smaller hole puncher. You can either put twine through the hole and tie it onto the previously tied twine OR do what I did and untie the bow and slide the tag onto the twine and retie.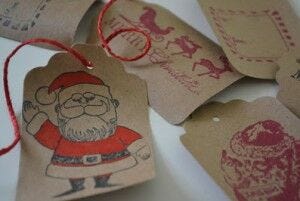 Seriously.  How cute did these turn out?  Not only is it inexpensive, BUT you get a adorable display under your tree and something the kids can be proud of.  Think about how many grandparents would LOVE to get a gift wrapped in paper designed by their grandkids.  Two gifts in one!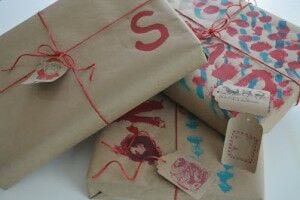 So this fall head over to JAM Paper and get the supplies you need to make a very personal, inexpensive, and "green" holiday at your house.