Halloween Invitations for Work and Play
Are you looking to get into the Halloween spirit at home or the office but feel like our festive orange envelopes are just a little too festive? No worries. You can shop Halloween's second favorite color choice for a more subtle approach to the holiday. These are great Halloween invitations!
Halloween Envelopes – Black Styles
Black Envelopes for Personal Use. Shop at JAM Paper any envelope in any color.
Black Linen & Smooth Envelopes
 - These two envelope styles are a popular seller and it's easy to see why. The smooth black envelope has a sleek appearance that is perfect for your adult Halloween party invitations. The linen textured envelopes add an extra detailing to a classic black envelope. These are both perfect choices for sending out Halloween party invites.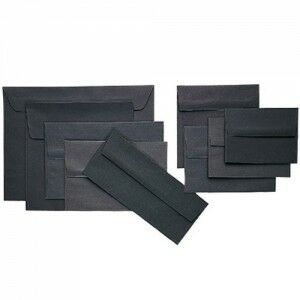 Black Foil and Foil Lined Envelopes
- The foil lined envelops are great because they have a hidden pop of metallic detailing inside the envelope. Guest will be surprised when they open the envelope and see a pop of color. These foil envelopes are great for mailing out thank you cards and pictures from the party. The foil envelope is accepted by the USPS and acts as a photo protector.
Black Square and Tiny Envelopes -
 These are the perfect set of envelopes for brides who want to host a Halloween themed wedding. The
square style envelope
gives your invitations an added flair by breaking out of the rectangle sized norm. Send RSVP cards with these tiny envelopes so guest can fill them out and easily drop them in the mail. They come in two small sizes 3 Drug  and 3 1/8 x 3 1/8. These make great halloween invitations!
Black Envelopes for Business
Black Tyvek® Envelopes
- These are great alternative to bulky boxes for shipping. The Tyvek® coating on these envelopes make them puncture and moisture resistant, which means you can skip the costly shipping box and ship products in this smaller envelope instead.
Black Clasp and Button & String Envelopes
- These envelopes are great for business use because they offer an added layer of security with the clasp or button and string closures. Switch out the interoffice manila envelopes for these more festive envelope choices.
Policy envelopes are great for mailing out promotional pamphlets or customer coupons. Get your customers into the Halloween spirit by using these sleek black policy envelopes instead of the boring all white ones. To view JAM Paper's black policy envelopes,
click here
. Black is available in every size except for #16 (5 7/8 x 12).
Black Bubble Mailers - Matte, Metallic and Velcro® - 
These bubble mailers are great for shipping important documents or even small products. The protective coating protects its contents from the elements, and the bubble wrap center protects the contents from being damaged.
Now our envelopes aren't just for the Halloween season. At JAM we carry a huge selection of
envelopes
in many size, shapes, textures and colors. But these sure are some great items for halloween invitations, no?