The first day of school is quickly approaching and one of the best ways to celebrate the new school year is to document all of the memories! We thought it'd be a great idea to create a Back to School DIY Memory Book to collect all of the year's best moments, from the first to the last day of school!
These Back to School DIY Memory Book are perfect for any age from kindergarten to high schoolers. They are totally customizable, so even older kids will like this project as they can make it match their own personal style. They can be used to write down your kid's favorite things such as teachers, friends and foods or what they learned that day at school. It's always nice to look back and reminisce about that great teacher or that old friend you haven't seen in ages.
I used lined paper on one side of the page and blank paper on the opposite page so your child can draw a picture of what they wrote about on the lined paper. Or, it's a great place to paste photographs if it's for older kids.
Another awesome (and totally unintentional) feature? Because it's made out of Kraft lunch bags, the open end can function as a place to store papers, awards, pictures and other memories!
So now that I've told you all about these fantastic memory books, let's talk about how to go about making them! It requires only a few things:
Supplies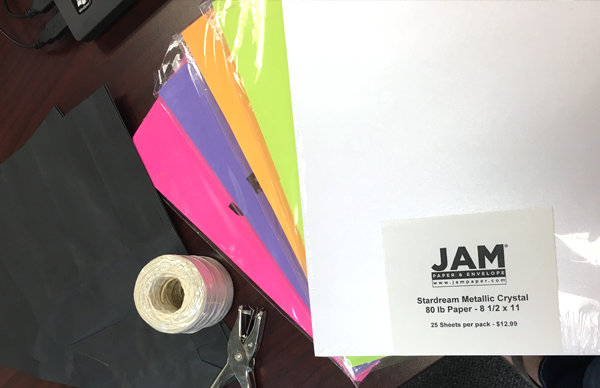 1.Kraft Paper Bags (I used black)
2.JAM Paper in various colors (I used four different Brite Hue colors) 3.JAM Paper Stardream Metallic Paper in White
4.Lined paper
5.Twine
6.Markers to decorate
8.Glue or tape
Step 1
Lay your bags flat down on the table with the flap facing the back. Fold in half from left to right.

Step 2
Hole punch three holes along the spine of the book. Lace twine through the holes from the inside of the book and tie in a knot. Cut off the excess

Step 3
Now that you have your book together, it's time to make the inside. Take your colored paper and measure a 5 x 5 ½" square. You're going to need 14 different squares, one for each page. Tape or glue one to each page.
Next, you're going to measure and cut out your white and lined paper. These should measure 4 ½" x 4 ½". Tape or glue one of each onto the colored paper. I put a lined paper and a white paper on opposite pages.

Step 4
Decorate the front however you please. I also embellished the inside a little bit by adding borders to the colored paper. You can also start filling in the pages if you want. For example, for the first day of school page I wrote things like "Favorite Teacher", "Best Friend", and "Something I learned". The other page is for a drawing of the best part of their day!

I thought that these were important memories that would be nice to look back on each year, especially as your kids grow older. It's always nice to see how things change each school year and to watch your child grow!
We hope you like this Back to School DIY Memory Book and give it a shot before the school year starts!