We've officially entered August and you know what that means! BACK TO SCHOOL! This time around we're talking about back-to-school textbook covers. And not just any old, boring back to school textbook covers made out of paper bags. We've used JAM Kraft Paper Bags, Sharpies, and some creativity to make three awesome-ly, standout back to school textbook covers! Plus, check out our extra credit project at the end of this post. It'll help you get rid of those extra Kraft bags and you'll have a super cool craft to hang up!
This is our favorite time of year at JAM and we are so pumped to start blogging about this exciting time. Whether it's your child's first day of Kindergarten or their senior year of high school, each year and every one in between is the perfect opportunity to get organized and gear up to have the best year yet! Take a peak below at how to make back to school textbook covers.
Supplies:
1. JAM Kraft Paper Bags
2.JAM Stardream Metallic Paper
3.JAM Paper in three colors of your choice
4.Sharpies, pens or markers
First things first, we have to wrap up these books. This is the most boring part of the process, but once we get past it, then the fun can begin!
Steps: 

1. The first thing you need to do is take your Kraft Paper Bag and cut it down the middle. When you get to the bottom section cut off the bottom by cutting along the folds. You should have a big rectangle.
2. Next, you're going to mark where you're going to fold the bag. Put the spine of the book in the middle of the bag and mark where the top and bottom are.
3. Then you're going to fold along these lines on the top and the bottom.
4. Finally, lay your book down and open one flap. Fold the excess paper over the front flap and tape to the inside. Repeat on the back flap.
Okay, so you have your textbook cover. Now, it's time for the fun stuff! Each of these designs is simple to do and can be done fairly quickly, so when you need the book you were told a week ago to cover done the next morning when the bell rings, you'll be all set in no time!
"Show Some Love" Book Cover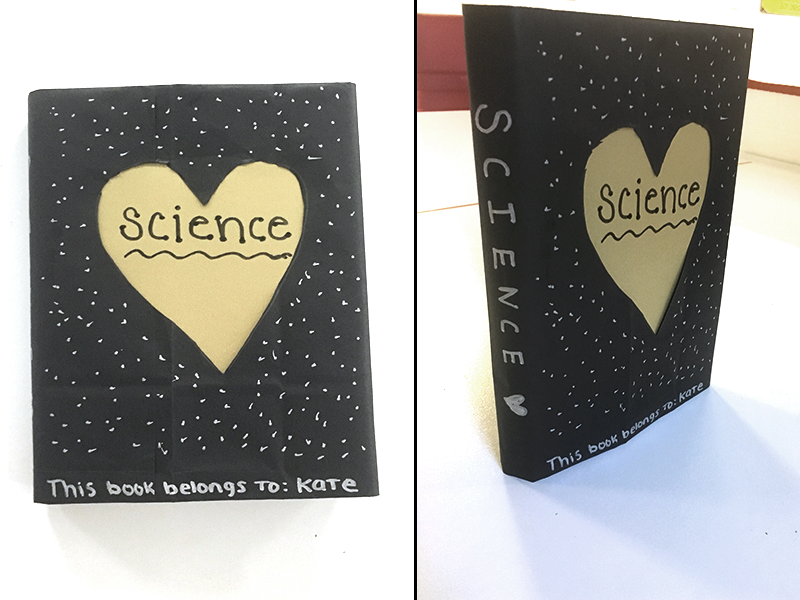 Show your favorite subject some love and make this super simple heart cut out. First, I wrapped the book using a Black Kraft Paper Bag following the directions above but I didn't tape it down. Instead, I drew a heart on the front cover and then removed the book cover and cut out the heart. I then used some Stardream Metallic Gold paper to fill in the heart. Cut a piece big enough to cover the whole heart and tape to the inside of the black cover. THEN you can put the cover back on and tape it to the inside. Decorate as you please! I used a black and silver Sharpie to make the designs.
"Polished Pockets" Book Cover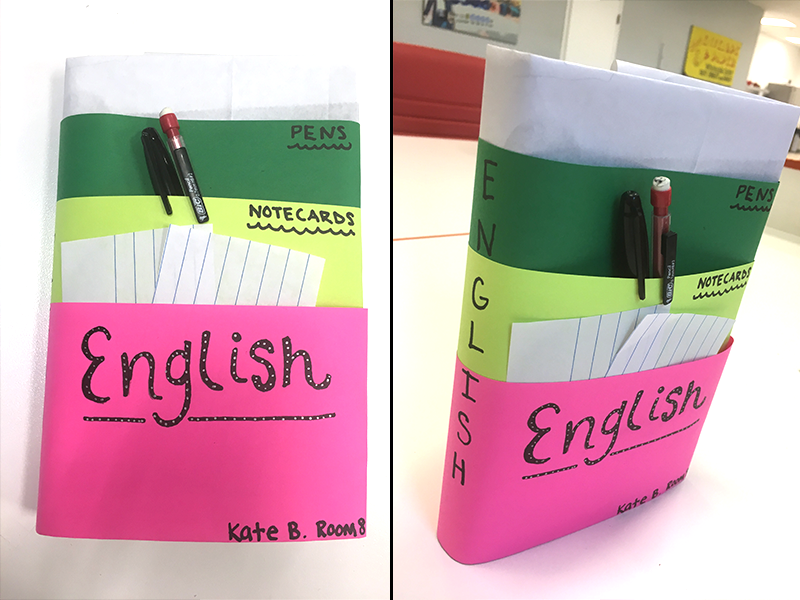 I think this is my favorite one that I made. It's a polished, classy way to dress up your drab textbook by being a little preppy, full of color, and totally  functional! Not only will it keep your book covered and protected, you'll always have a place to store your pens or pencils and note cards so you'll always be prepared!
I used a White Kraft Paper Bag for the base of this cover and three Brite Hue colors of JAM Paper. After following the directions above with the paper bag, choose one of your Brite Hue colors. Just like you folded the white Kraft bag along the edges, you're going to do that on the bottom of each piece of paper you use.
Line the paper up with the bottom of the book and wrap the excess around the book. It may or may not reach the back flap but that's okay! Remember to leave a little extra hang off in the front so you can tape it to the inside! Repeat this process with the other two colors, making the stripes as big or as small as you want to.
Then decorate! I left the pockets for pens and note cards, but you can store other papers or tests in there as well!
"The Perfect Theme" Book Cover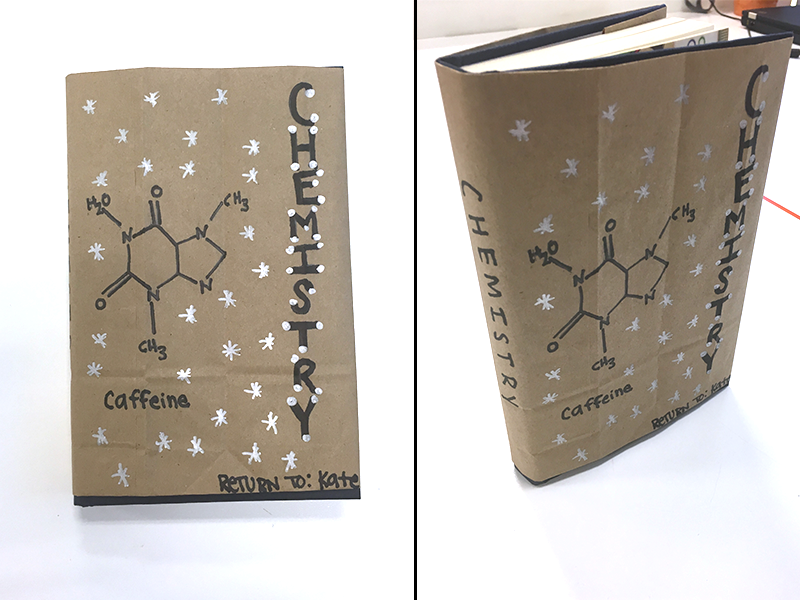 Here's the easiest cover of them all. All it requires is a little creativity! For this one I used a good, old brown Kraft bag. After following the directions above, all I did was decorate the cover and spine with a themed design! This one is obviously for chemistry and displays my undying love for caffeine. But, you can decorate however you want. Try a flower design for Biology. Or a portrait of Shakespeare for English or Poetry if you're particularly artistic! Maybe have some fun with numbers and symbols and dress up your Math book…the possibilities are endless!
---
---
---
---
---
Extra Credit

So we were feeling particularly ambitious the other day and had some extra Kraft bags on hand, so we thought we'd take a stab at these awesome paper stars! Well, they turned out pretty amazing, if I do say so myself, and they are seriously SO easy and quick to make. There's literally three steps: Draw, cut, tape. They'd be perfect to string together to create a super cool garland decoration. Or it'd be awesome to make a bunch in fun, bright colors and hang them on the wall in a cool pattern!
Steps: 

1.Cut out the shape as pictured. Use this as a template to cut out a bunch. The more you use, the bigger the star is. I used nine bags.
2.With the bottom flap facing up, tape or glue the bags together. I only had tape, but I think glue would've worked better.
3. Once you have all your bags taped together, open the star up and attach the two ends together.
So there you have it! We hope this will start you off to a great year by getting you excited for all the school year has to offer! Check back often because this month is all about BACK TO SCHOOL!