9 Secret Santa Gift Ideas for Your Coworkers
So we all have coworkers. Some we adore, some we would rather not see everyday from 9-5, and some who we don't really know but always awkwardly say hi to in the hallway.
So when the big marketing team or the sales representatives or even the customer service section of the office decides to have a secret santa gift exchange, something in the pit of your stomach, even if just for a moment, goes:
"Insert inappropriate word, what if I get insert name here?"
or
"What if I get the boss … do I get him/her something more expensive? I really need that raise."
or
"Who's that girl with the glasses? I have no idea what she likes."
or
"Last year I got a candle that smells like vanilla. I hate vanilla. If I get that again, I'm going to scream." (My experience last year – NOTE: JAM coworkers, do not get me a vanilla candle).
So when you'd rather be safe than sorry, when you'd rather make them smile instead of make them give you a questioned look and a high pitch "aww thank you….", when you'd rather make it easy on yourself than having to think and think and think of something creative, take a look at our list of:
9 Secret Santa Gift Ideas for Your Coworkers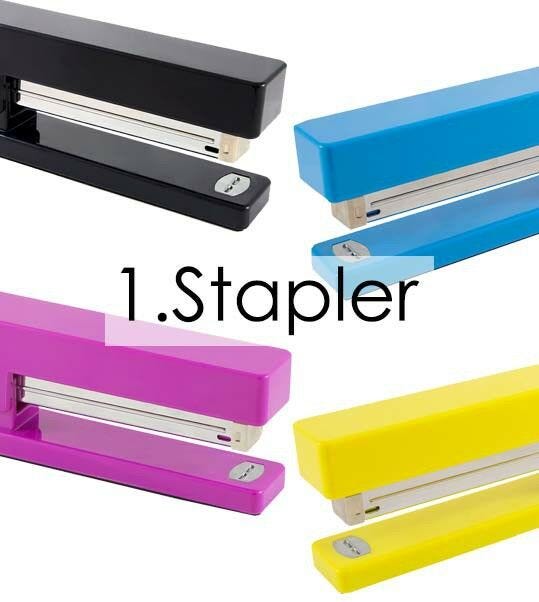 Everyone has that coworker who needs to live a little and talk some more. Maybe even start decorating their cubicle after a few … fifteen ... years of being there. These colorful staplers are sure to make them smile and are sure to make their office space pop – for the first time ever. You never know, this might finally make them pop out of their shell and become the crazy coworker who does whatever he/she wants. Wouldn't that be cool to see?
2. Colorful Border Stationery Sets At first you didn't know who it was (like that glasses girl above), and well, to be honest, you're still not sure. But you picked their name out of a hat and here you are! These are a cute accessory for any kind of worker because they can be used for any kind of purpose. From writing their own to-do lists, to sending them out to clients, to using them for thank you cards for their own Christmas gifts!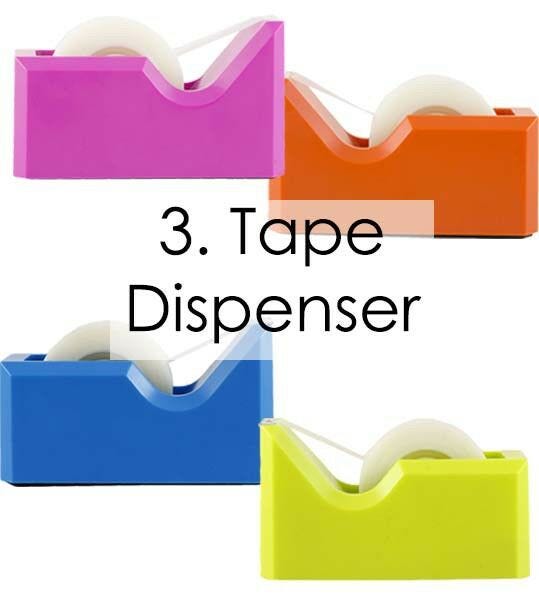 I NEED TAPE! This is for the clumsy coworker who NEEDS tape NOW. The one who is so unorganized and the one who always seems to be ruining their papers and presentations last minute. With a tape dispenser that will totally be easy to spot even at the most cluttered office desk, they might calm down a little – which will then calm you down when they're freaking out about God knows what this time. In short, tape solves everything, even your sanity.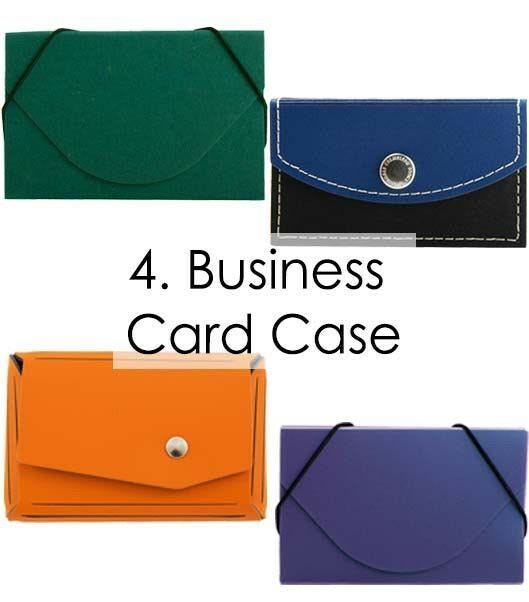 This is for that coworker who is obsessed with work. Who always talks about it, even when you all go out for a drink and just want to relax after a long day. This way they can talk to other people about the business, promote the business by giving the bartender their card conveniently stored in their business card case, and most importantly, not annoy you. You're welcome!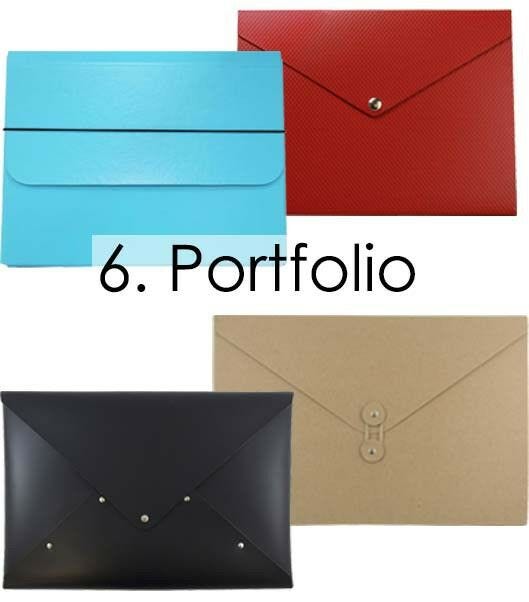 To that person who desperately needs to keep their papers safe. To that coworker who always seems to fall in the hallway and you're not sure if you should help grab their mess or be early for your own meeting. Or to that coworker who always looks their best and needs a good accessory for under their arm. Actually, to anyone really. The assortment of portfolios you can get, from natural Recycled Kraft Portfolios for that environmental lover to fancy shmancy Leather Portfolios for the big boss man/woman, will make it easy to find the perfect secret santa gift.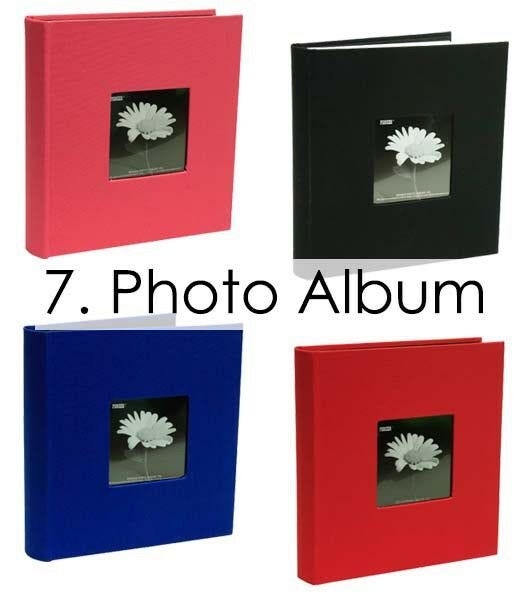 Know this coworker way too much and have way too many pictures with them that it's kind of like 'whoa, I can call a coworker a friend'? These Photo Albums are for the lucky times when you pick your best friend out of the hat. Choose their favorite color and stick some of your pictures in the album. It's a cute gift that says, "hey I like working with you and I like hanging out with you."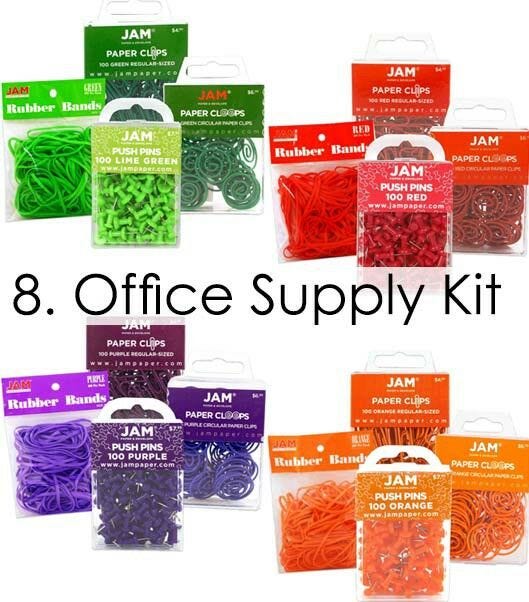 It's the perfect general office Secret Santa gift! It gives you rubber bands, push pins, paper clips, paper CLOOPS. What more can your coworker ask for? All you really have to do is ask what their favorite color is randomly, or spy on them when they're not at their desk to try and find out. With the same matching color in every kit, you won't want to give the person who hates green the green office supply kit. Or maybe you do … maybe it's that coworker you aren't a fan of. Is this bad advice? I can't tell.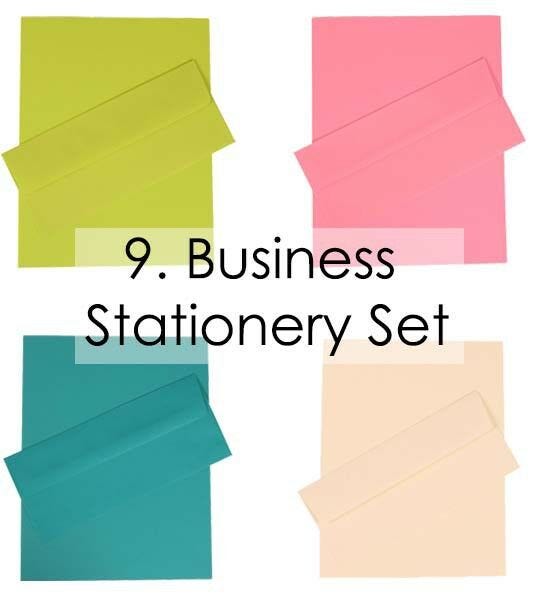 Duh – this says 'Business' in the title. These Business Stationery Sets are perfect for that coworker who needs to one-up everyone, but everyone else doesn't really care about the one-upping that said person is doing. They'll be able to send all of their business letters and documents in high quality envelopes with matching high quality paper! Hey, maybe that one-upper is also the suck-upper. You might get an IOU back… Wait, is the holiday season about giving or taking? I forgot.
Well, I hoped I helped. At least the ideas are flowing now, right?
Shop JAM today for all non-awkward secret santa gifts for the awkward office!