7 Craft Room Makeover Ideas for the New Year
It's your safe haven, room for inspiration, place where your lively hands can create. I'm talking about your craft room!  As much as we hate to admit it, the new year does give everyone that new beginning and extra push to fulfill our goals. It may take a couple of tries but better late than never! If you've been struggling with keeping your craft room organized perhaps some of these ideas may help. Before you let your anxiety get the best of you, remember, the new year isn't about creating a new you its about finding techniques to enhance how great you already are!
---
Creative Bulletin Boards 
Do you have a million ideas constantly floating in your head? Though it may be hard to pin them down, sticking them on a cork board and securing it with a
push pin
certainly helps! Give your ideas a home to flourish. We all pride ourselves on having emulate memories but the truth is seeing them come alive brings our concepts to a whole other level. It's your craft room so your cork board can be as original as you'd like. Give it a fancy frame to go with your feminine style or use a magnetic board for some modern flair! [caption id="attachment_12058" align="aligncenter" width="300"]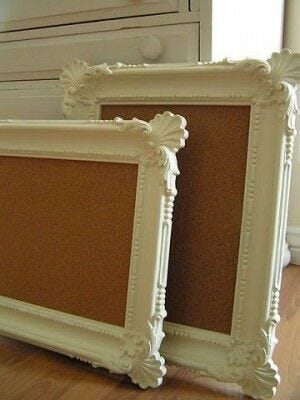 via
Tea Rose Home
[/caption] [caption id="attachment_12059" align="aligncenter" width="382"]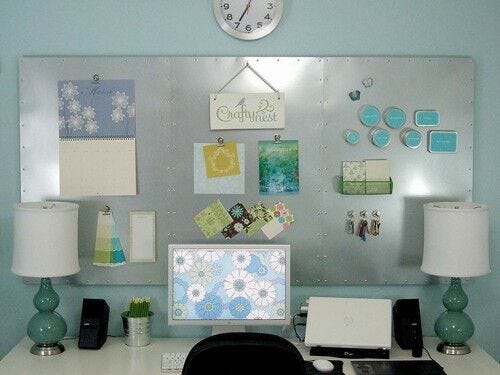 via
Martha Stewart
[/caption]
---
 Calendar
Your handmade invites for Carrie's wedding has to be complete by the 6th, and the 4th is John's piano recital. Oh crap, today your sponsored blog post is supposed to go live! Ditch your mental calendars while your ahead- or behind. Some dates are engraved in our heads while others become distant memories. When we forget certain events we tend to over commit to other projects and it doesn't end well. Hang up a calendar where you can't miss it. Whiteboards tend to be the best as you can erase and add on whenever our ever changing schedules shift.
Your calendar can be as traditional or unconventional as you'd like as long as the dates are there.
[caption id="attachment_12067" align="aligncenter" width="351"]
via
Apartment Therapy
[/caption] [caption id="attachment_12065" align="aligncenter" width="354"]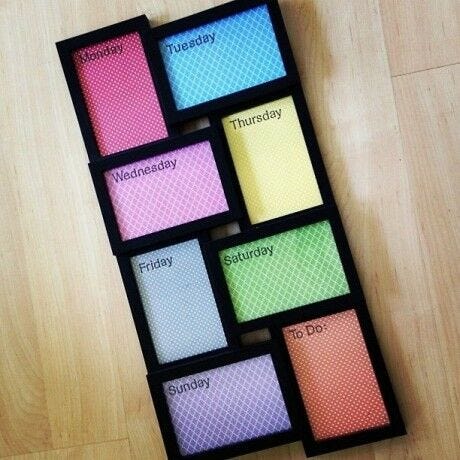 via
Buzzfeed
[/caption]
---
 File Fabric
Sewers are known to live out of boxes and bags. Organizing fabric like that is bound to get in a disarray. The same way you'd file important documents, file your fabric in drawers or even file folders! Label the top so you know exactly where everything is.
[caption id="attachment_12055" align="aligncenter" width="282"]

via
The Thinking Closet
[/caption]
---
Rolls
Whether it's wrapping paper, ribbon, or
twine
putting them on rolls is always a great choice. Not only are these neat displays but they also keep your materials from getting tangled. [caption id="attachment_12073" align="aligncenter" width="274"]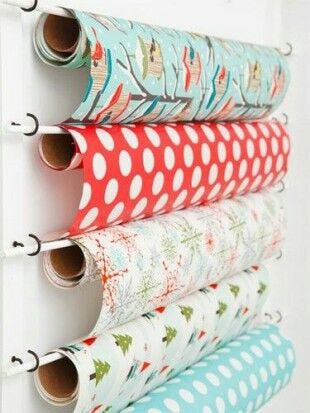 via
Woman's Day
[/caption] [caption id="attachment_12071" align="aligncenter" width="282"]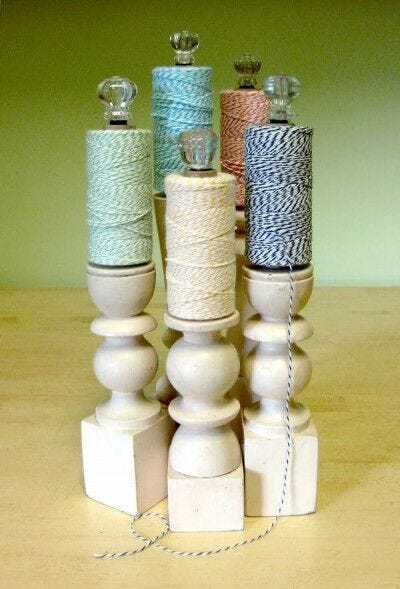 via
Just Something I Made
[/caption]
---
Paint 
Looking for an ingenious way to organize paint? Stack them on a book case, or place them in between wire hangers, or even a spice rack. Hang your paint brushes so they never get damaged. [caption id="attachment_12077" align="aligncenter" width="519"]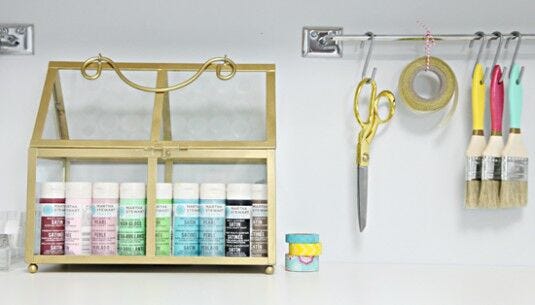 via
I Heart Organizing
[/caption]
---
Shelves
Whether they're book shelves to hold small boxes, floating shelves, or light shelves for paper they will keep your materials organized.
[caption id="attachment_12083" align="aligncenter" width="310"]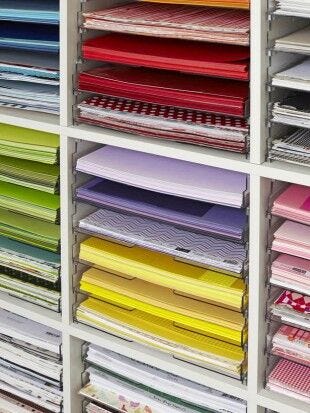 via
DIY Network
[/caption]
---
Mason Jars
Mason jars aren't only for storing sweet treats, you can stock pencils, markers, paint tubes, paint brushes, sewing supplies, fabric, washi tape, and more inside. You can get mason jars big or small.
[caption id="attachment_12085" align="aligncenter" width="310"]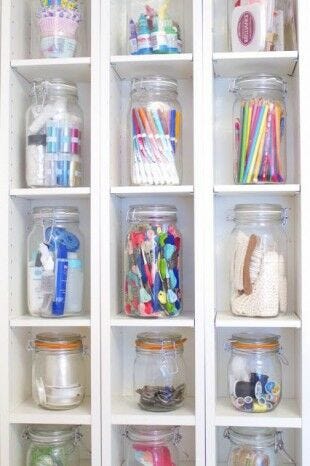 via
Live Love DIY
[/caption]
Do you use any of these methods? How do you organize your craft room?