11 Must-Have JAM Items for the Perfect Summer Road Trip
I don't know about you, but a
summer road trip
across America has been on my bucket list ever since I learned that the U.S. has 50 states.
Just
imagine kicking back your seat, blasting some solid songs, and watching the world unfold before you as the wind whips your face
.
But wait!
Before you hop into your car
just
yet, remember that when you go on a road trip, equipping yourself with the right materials is
just
as important as visiting the actual places
.
So I'm here to give you the best road trip plan with the perfect products to go along with you for the ride!
Since JAM's headquarters used to be in New York City, I decided to start there. Feel free to start at whatever city is nearest to you!
Get ready to travel cross-country with JAM.
Hold on tight!
Here we go!
Destination 1: New York City, New York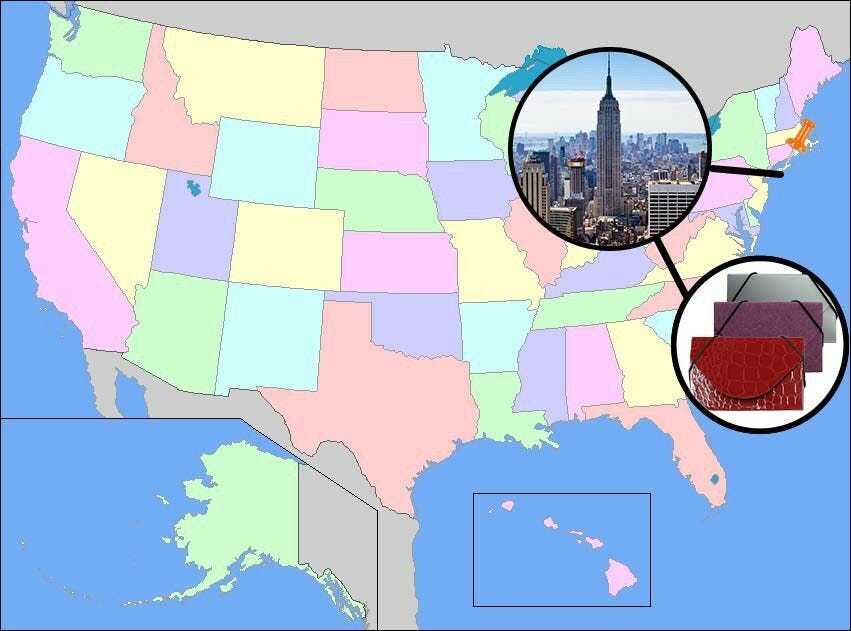 New York City is all about getting down to business. Busy people, busy traffic, busy life. In the city that never sleeps, Business Card Cases are your best bet at survival. You never know who you'll bump into (literally). Trust us: it'll pay to have your business cards on hand. So when you bump into Donald Trump on your way to the Empire State Building, whip out one of these babies and—BAM!—you just might become his next presidential campaign coordinator.
Destination 2: Washington, DC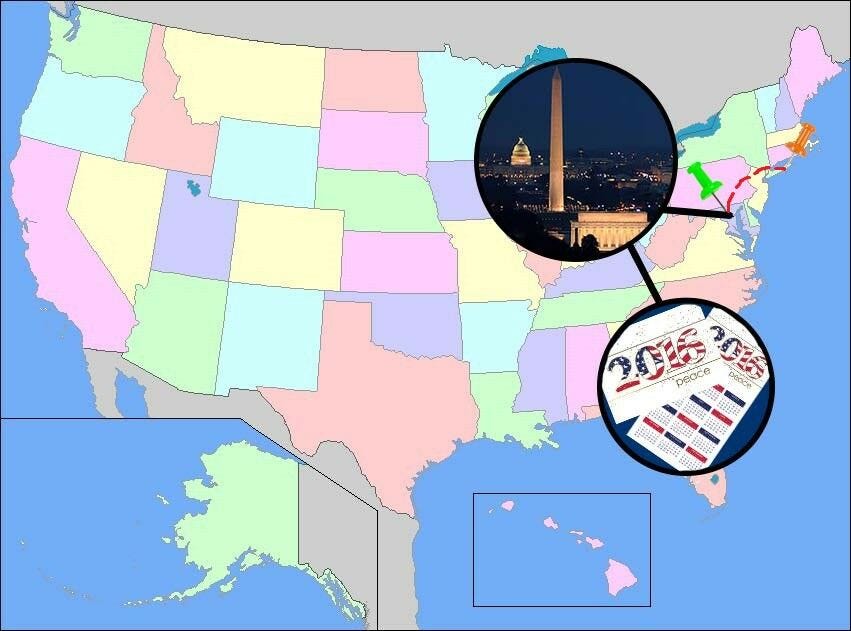 When you're in Washington D.C., you won't be able to help but feel patriotic. From the Washington Monument to the Lincoln Memorial, you'll be bleeding red, white, and blue before you know it. With our red, white, and blue envelopes, everyone (even those protesters surrounding the White House) will be singing the National Anthem right along with you.
Destination 3: Nashville, Tennessee
Next stop, the Music City of America! Nashville
is known
for its musical talent, so don't go without an instrument yourself. Yes, we are a paper and envelope company, but we do have some
Metallic Tins
that make for awesome drumming! Carry these around, and you may even become part of a bluegrass band.
The best part? While you drum your way to the Country Music Hall of Fame, you can store your harmonica inside the tin! It's a win-win.
Destination 4: New Orleans, Louisiana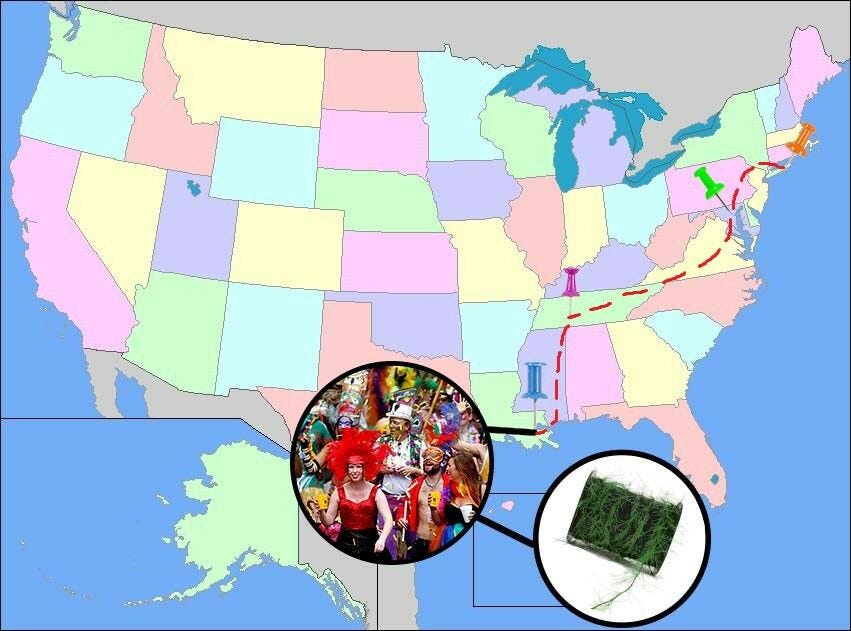 Mardi Gras. That's the first thing that comes to mind when I hear "NOLA". When you walk down the streets of Mardi Gras, you'll definitely want the right accessories. And what could go better with those infamous beads than our
Feather Ribbon
?
Use this ribbon to decorate your own mask or tie it around your neck. You'll fit right in and also keep away all the voodoo NOLA
is known
for. You're welcome.
Destination 5: Anywhere, Texas
Howdy ya'll! Okay, I don't think you should be THAT corny when you go to Texas, because I'm pretty sure the Texans won't find it very funny. But you
are
going to need some
Napkins
for the many awesome BBQ's you'll be attending.
When I picture Texas, I see a bunch of cowboys handing out free Texas-styled beef and ribs. You're going to be
really
happy with your napkins when they bring that Sloppy Joe your way!
Destination 6: Grand Canyon South Rim, Arizona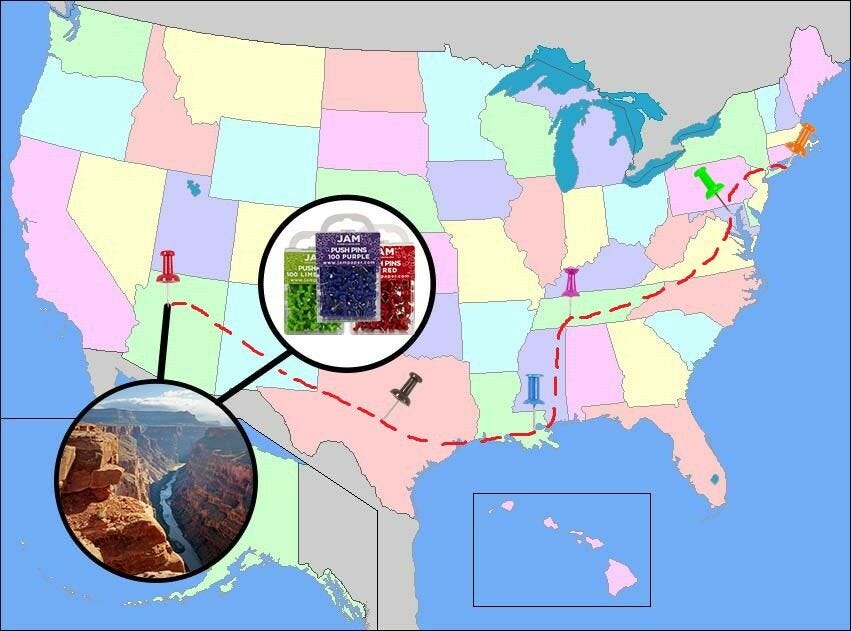 From my extensive research (read: Google search), I found that the Grand Canyon South Rim is your best bet for seeing most of the Grand Canyon in one sitting
. Of course, the beautiful landscape is something you will never forget, wherever you see it. I
just
HAD to make this a stop on the road trip.
I've also heard that it's super quiet in some areas.
Destination 7: Los Angeles, California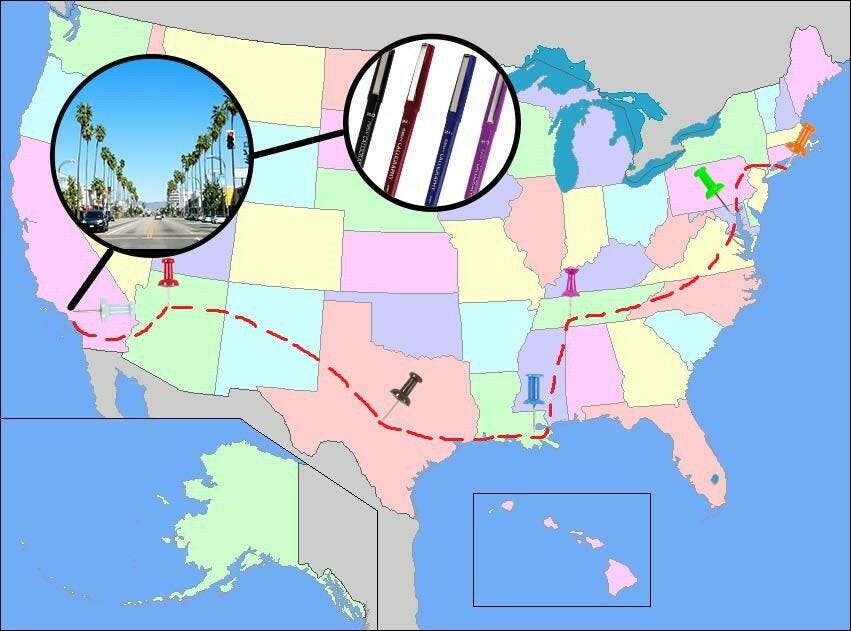 CELEBRITY CITY! Okay, so I've heard that traffic is killer, but that's the only downfall. Especially if you're as obsessed with celebrities as I am.
The only thing you'll need with you in LA is one of our Calligraphy Pens. Why? Because you'll be seeing celebrities left and right.

To be the perfect tourist (and a tourist you most

certainly

are—even if you don't want to admit it), you're going to need to get their autographs ASAP

.

These smooth pens will make it easier for celebrities to leave you a little something to hold onto before heading off to the next thing on their agenda

.
So go and get those signatures! I mean, if I saw Nick Jonas in LA and DIDN'T try to get his autograph, I'd
never
forgive myself.
Destination 8: Beverly Hills, California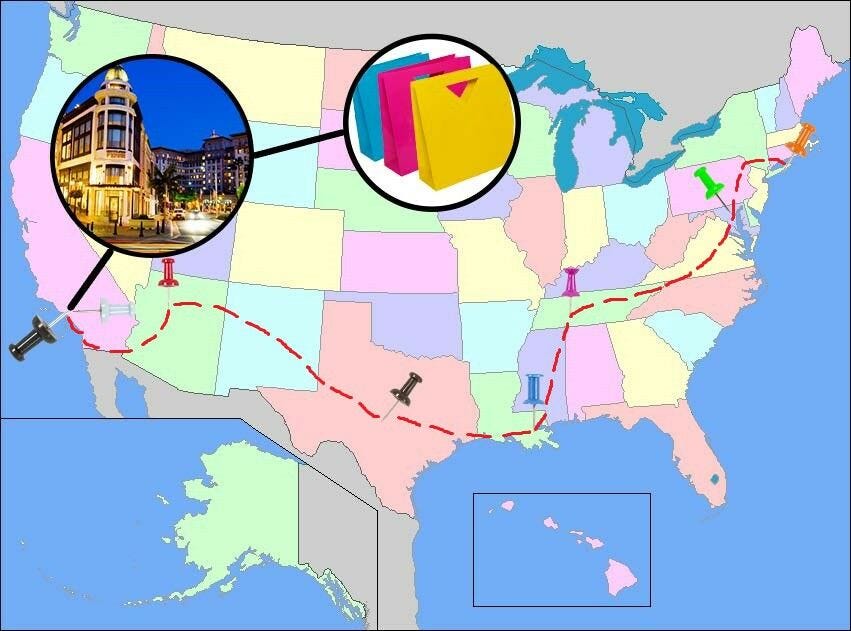 Speaking of, since Beverly Hills is so close to LA, you'll have to visit there next. Strut your stuff down Rodeo Drive like Julia Roberts did in Pretty Woman. If Roberts had one of our Die Cut Shopping Bags, she would've completely owned those stuck-up retailers (even more than she already did). The bright colors would've given her greater chances to rub her awesomeness in their face. I know, I know, I'm sorry. I needed to make a movie reference somewhere, okay?
Destination 9: Seattle, Washington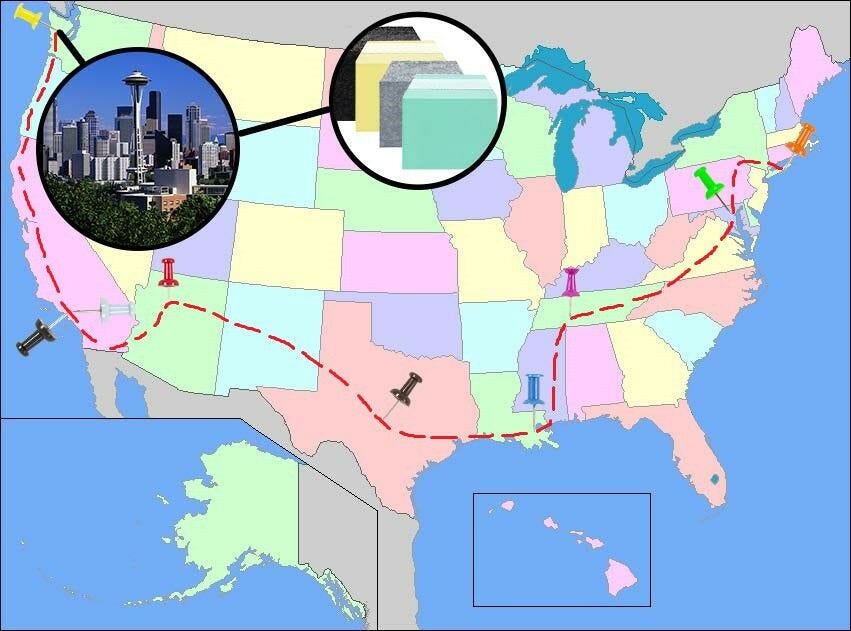 In addition
to the Space Needle, Seattle
is known
for the
amazing movie
Sleepless in Seattle
its rain.
I mean, I've always wanted to say that I've been to the Emerald City (because of the Tom Hanks movie), but I'm going to need some serious protection if I go
. With JAM
Cellophane Sleeves
, you'll never get your things wet!
The rain will drip right off the envelope and protect all those love letters you've been exchanging with your latest admirer
. Ugh, swoon.
Destination 10: Rapid City, South Dakota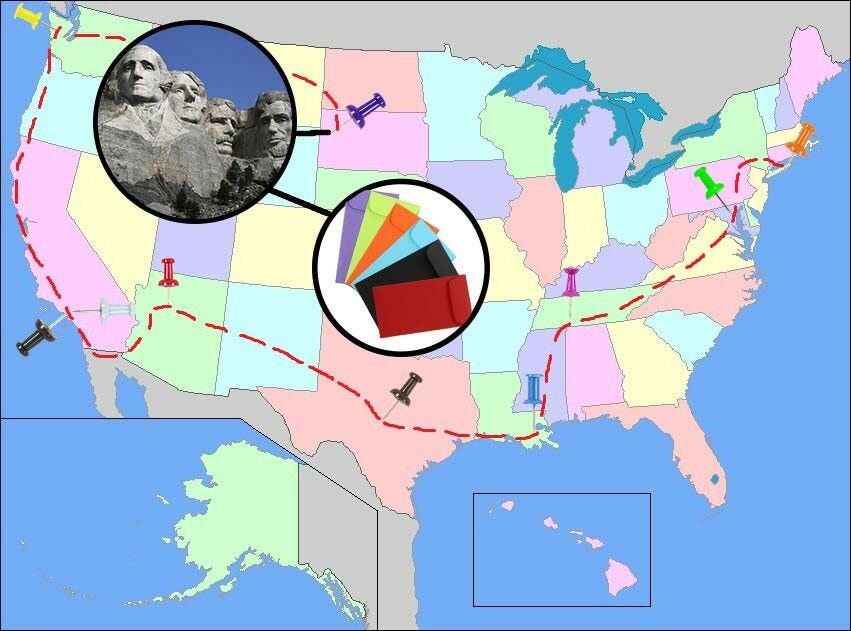 What exactly are you going to do in Rapid City, South Dakota, you ask? Visit Mount Rushmore, of course! I've only heard amazing things about the experience, so I decided that this has to be the next stop on our list.
The fact that it took 14 years to sculpt this national structure should be more than enough motivation to check it out
!
Since Jefferson, Washington, and Lincoln are all on US coins, why not carry some along with you in our beautiful
Coin Envelopes
? You'll look up and see the same faces! I heard it's tradition to throw nickels, pennies, and quarters at the mountain for good luck… or I
just
made that up. But it sounds like a cool idea, doesn't it?
Destination 11: Chicago, Illinois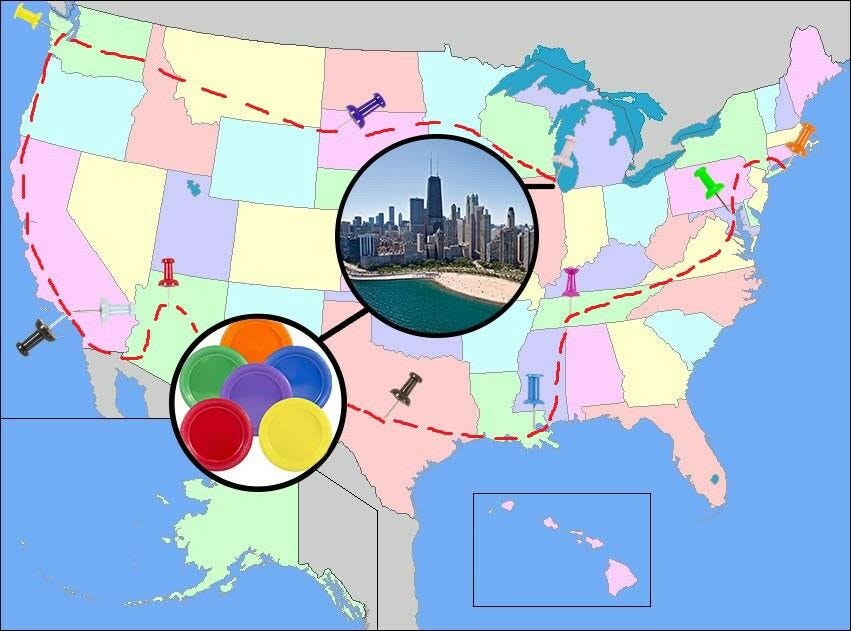 Last stop: Chicago. Do we even need to say it? Of course you have to try Chicago's famous deep dish pizza!
As you start to explore all the greatest pizzerias in the Windy City, you're going to want some top-notch
Plastic Plates
to hold up those heavy crusts
. Our wide assortment of plates is suitable for pizzas of all sizes. Those deep dish pizzas had better be ready for you!
So there you have it! From New York City to Chicago, you now know all the essential locations to visit and items to pack!
Don't have the time or can't afford to go on a real summer road trip at the moment?

That's okay—you can always buy our recommended supplies anyway and use them as motivation until the day you can finally take off

. This way, you'll be ready to go at a moment's notice!
Comment below to share or recommend cities that YOU want to visit on the summer road trip of your dreams!
---
Edited on 12/10/2019 by Dana Kim.